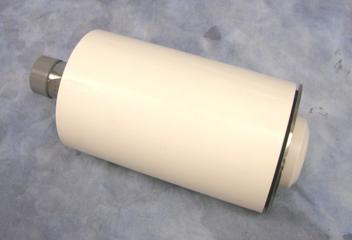 PBX Systems introduces the PosNet GPS module for positioning seismic energy sources.
ARIES is a lightweight, rugged, flexible and cost effective alternative to existing products in the market place today.
To simplify installation and system setup, PosNet is designed to be hard mounted on a float or buoy located over the energy source.
PosNet's light weight (5 lbs) and small size (4.5 inch diameter, 10.5 inch length) provides greater flexibility in module placement. When PosNet is powered up the unit will self configure.
*** No operator intervention is required beyond initially assigning a unit ID. ***
Most cost effective GPS pod for energy source positioning.
Position or Carrier Phase Raw Data output.
Wide voltage input range.
12 Channel "all-in-view" parallel tracking.
Requires only two wire pairs for Raw Data Output (additional pair for DGPS).
Selectable WAAS/RTCM operation.
Up to 8 PosNet pods on a single gun-string.
Rapid time to first fix after power interruption.
Performance
| | |
| --- | --- |
| Position Accuracy | |
| Single Point L1 | <5 m CEP |
| WAAS L1 | <1.5 m CEP |
| DGPS (L1, C/A) | <1 m CEP |
| Measurement Precision | |
| L1 C/A Code | 75 cm RMS |
| L1 Carrier Phase | 1 cm RMS |
| Time to First Fix (typical) | |
| Cold Start | 120 s |
| Warm Start | 45 s |
| Hot Start | 15 s |
| | |
| Signal Reacquisition | <1 s (typical) |
| Velocity Accuracy | 0.05 m/s RMS |
| Part Number | 62370 |
Physical & Electrical
Size (inches)
4.5 diameter x 10.5 height
Weight
5 pounds
Power
Input Voltage
+18 to +72 VDC
+12 to +36 VDC
Power Consumption
3.0W (typical)
Communication Ports
1 RS for Position/Raw Data
1 RS=485 for RTM input
Input/Output Connectors
AG Geophysical AGP-2708M
Environmental: Temperature
Operating
-30C to +75C
Storage
-40C to +85C